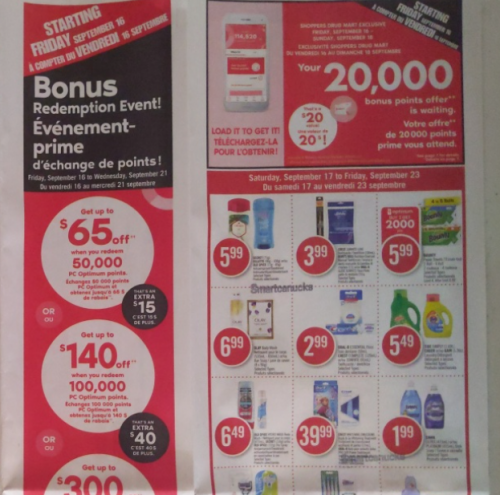 Spend your points at Shoppers Drug Mart in the upcoming week during another five day bonus redemption event! From Friday, September the 16th, to September the 20th, redeem your points for increased value. Use 50,000 points and get $65, redeem 100,000 points and get $140 off, or redeem 200,000 points for $300 off!
You will also have an offer for 20,000 PC Optimum points that you will find in your app for this week, so you will have the opportunity to earn points if you would prefer, rather than redeem. There will also be a two day sale this weekend, and here are some of the featured items:
Maxwell House Instant Coffee or Red Rose Tea 2/$6
Nestle Mini 50's $7.99
Smartfood or Miss Vickie's 2/$6
Christie Cookies or Crackers 2/$5
Pepsi 6pk 2/$6
Coke 6pk $3.49
Crest or Colgate Toothpaste .88
Royale or Kleenex Facial Tissue 6pk $5.99
Dozen Eggs $3.29
No Name Butter $4.29
Wonder Bread $2.49
Click here to view the upcoming flyer on our forum.