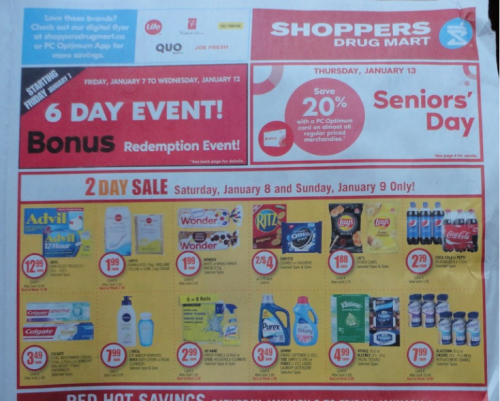 There is a 6 day bonus redemption coming up at Shoppers Drug Mart Canada and it will run from January the 7th to the 12th. For the 6 days you can redeem your points at the following levels: 50,000 points for up to $65 off, 100,000 points for up to $140 off, and 200,000 points for up to $300 off.
There is also a two day sale on January the 8th and the 9th, and some here are some of the featured items:
Select Advil Products $12.99
Lantic Sugar $1.99
Wonder Bread $1.99
Christie Cookies or Crackers 2/$4
Lay's Potato Chips $1.88
Coke or Pepsi 6pk $2.79
Select Nivea Products $7.99
Purex or Downy $3.49
Kleenex or Royale Facial Tissue 6pk $4.99
Ensure or Glucerna $7.99
Neilson 1L Chocolate Milk $1.29
No Name Butter $3.49
Dozen Eggs $2.49
No Name Bacon $4.99
PC Thin & Crispy Pizza $2.99
Ben & Jerry's Ice Cream 2/$10
Click here to view the flyer on our forum.