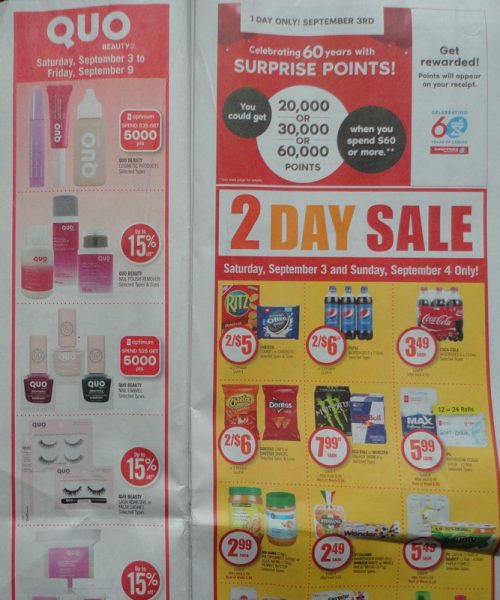 On September the 3rd Shoppers Drug Mart will be having an amazing surprise points offer! Spend $60 or more on nearly anything in the store and you will receive 20,000 PC Optimum points, 30,000 PC Optimum points, or 60,000 PC Optimum points! You will have an offer in your app valid for one time use on this day, and you may be lucky enough to get the 60,000 points.
There is also a two day sale coming up this weekend, and here are some of the items that are included in the sale:
Christie Cookies or Crackers 2/$5
6pk Pepsi 2/$6
6pk Coke $3.49
Cheetos or Doritos 2/$6
No Name Peanut Butter $2.99
Wonder Bread or D'Italiano Buns $2.49
Dozen Eggs $3.19
No Name Butter $4.29
No Name Bacon $4.99
Neilson Chocolate Milk $1.49
Dr. Oetker Guiseppe Frozen Pizza $5.49
Breyers Classic or Popsicle $2.99
There is another promotion on Sunday as well, and you will receive a $20 Shoppers Drug Mart Savings Card when you spend $75 or more on nearly anything in store. Be sure to mind the expiry date on the Savings Card, because it is a promotional card and is not like a regular gift card.
Click here to view the upcoming Shoppers Drug Mart flyer on our forum.