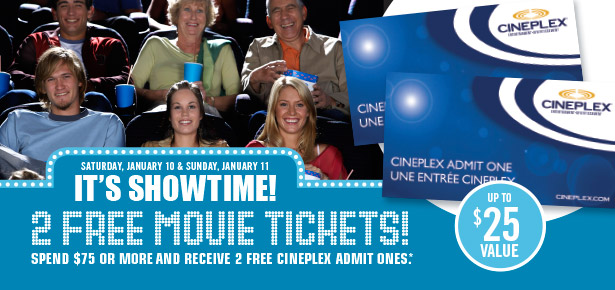 This Saturday, January 10th and Sunday, January 11th when you're doing your weekend errands, you should perhaps opt to do some of your weekly shopping at Shoppers Drug Mart Canada (or at least spend a minimum of $75 there on some of your weekly necessities) for if you do you will receive 2 free movie tickets for any Cineplex theatre.
The only restrictions on the products you can buy to meet your minimum qualifying spend of $75 is that the products cannot be:
prescription purchases
products with codeine
insulin and select insulin products
tobacco products
stamps
passport photos
lottery tickets
event tickets, transit tickets and passes
electronic gift cards and prepaid phone cards
The ticket value of these movie passes from Shoppers Drug Mart is $25, which is always so shocking to hear as who doesn't remember the time when movies were just $5?? If you do qualify to cash in on these freebies, I'd suggest taking yourself and a friend to see one of the year's best movies, The Imitation Game. Already nominated for Best Actor, Best Supporting Actor and Best Motion Picture for the Golden Globes, The Imitation Game is possibly the best movie you could choose to spend your free movies passes on.
Click here to read the full details about the Cineplex movie giveaway.