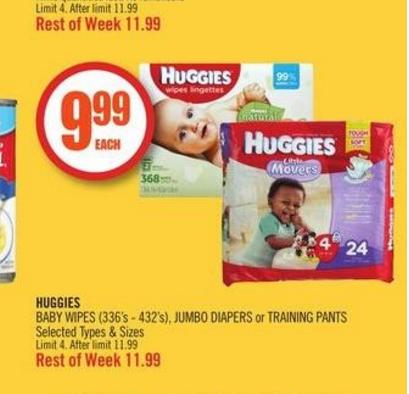 Shoppers Drug Mart Canada has a great one day sale on Huggies jumbo pack of diapers and training pants, one day only, Saturday, January the 23rd. On this one day only the price for these products will be $9.99 with a limit of four, and there are a few things you can do to maximize this deal!
Firstly, Saturday is also 20x the points when you spend $50 in store. In addition to those points, there are VIB coupons that you can use to get 3000 points for each package. There is a coupon for 3000 points for each of the following varieties: Huggies Little Snugglers, Little Movers, and Pull Ups. You may only use one of each VIB coupon per transaction, so I purchase one of each variety, and use one of each coupon, for an additional 9000 Optimum points!
There are also a few Huggies coupons available through their website at the moment. If you have not previously printed them, you can currently print the following:
Save $2 on Huggies Little Mover Slip on Diapers (double check that your Shoppers Drug Mart carries these as I have yet to see these even in my area)
Save $1.50 on Huggies Little Movers
Save $1.50 on Huggies Little Snugglers
So, combine all of these three things and you have an amazing deal on diapers!
Click here to view the Shoppers Drug Mart flyer.
Click here to print VIB coupons for bonus Optimum points.
Click here to print Huggies coupons.