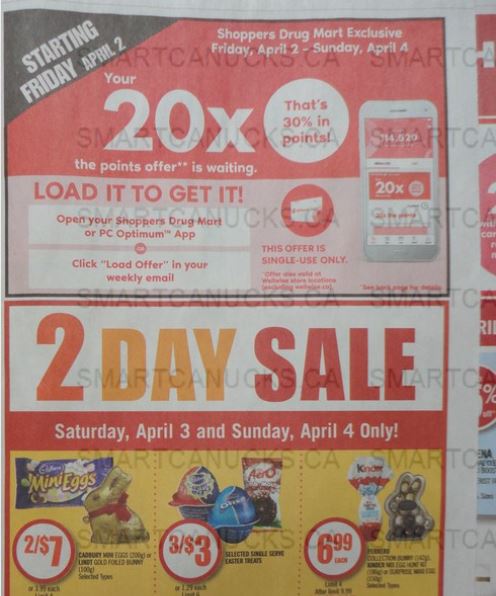 This weekend, from April the 2nd to the 4th, get 20x the PC Optimum points at Shoppers Drug Mart Canada with a loadable offer that you will find in your app. These types of offers usually vary by account, so some of you may have 20x the points when you spend $50, while others may have higher spend amounts, like $75, and other may even have lower spend amount like $40.
There is a two day sale this weekend, as there almost always is, and here are some of the advertised items:
Christie Cookie or Crackers $1.88
Wonder Bread $1.99
Dove Bar Soap or Body Wash $2.88
Many Easter Items! (see flyer)
Dozen Eggs $2.29
No Name Butter $3.49
Ben& Jerry's $4.99
There is also a gift card promotion coming up next week. From April the 3rd to the 9th, you will receive 7,500 PC Optimum points for every $50 that you spend on Gap, Kobo, or H&M gift cards.
Click here to view the upcoming flyer on our forum.