Want a fast way to build up your Shoppers Optimum points? Shop Shoppers Drug Mart Saturday, April 16, 2016 and you can earn 20x the Shoppers Optimum points, when you spend $50 or more on almost anything in store. Some exclusions may apply. This Shoppers Drug Mart offer is valid for one day only.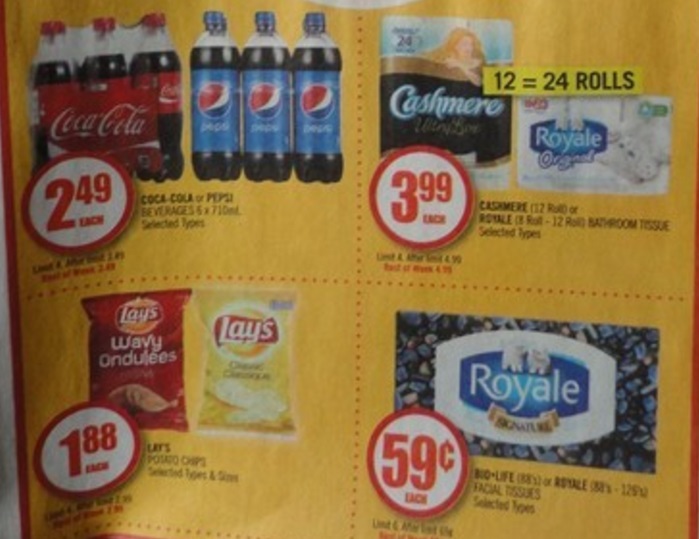 Not sure what to get from Shoppers to get your purchase over $50? Shop this Saturday, April 16, 2016 at Shopper's Drug Mart's 'One Day Only' sale, spend $50 or more and get some amazing savings while earning 20x the Optimum points at the same time. Offers differ in different provinces. Sale on select types and sizes. Some restrictions may apply
Some of Shopper's Drug Mart's Saturday, April 16th sale (in Ontario) include:
Coca-Cola or Pepsi 770mL x 6 bottles – $2.49
Cashmere (12 roll) or Royale (8-12 roll)bathroom tissue – $3.99
Lay's potato chips – $1.88
Bio-Life (88's) or Royale (88's-125's) facial tissue – $0.59
Mrs. Fields or Peek Freaks cookies – $1.88
Bounty (6 roll) or PC Green (6 roll) paper towels – $4.99
Nescafe rich instant coffee (100g- 170g), Twinings  (20's) or TAZO (24'S) tea bags – $3.99
Kraft peanut butter (750g- 1kg) or spreads (500g) – $2.99G
Allen's (8 x 200mL), Minute Maid (10 x 200mL), or PC (1.89L) – 2 for $4
Wonder white or 100% whole wheat bread (675g) – $1.99
Speed Stick antiperspirant/deodorant (45g-85g), Dove bar soap (2x113g), or Softsoap liquid hand soap – $1.99
Irish Spring bar soap ( 3x 50g), Old Spice high endurance (85g), ot Gilllette antiperspirant/deodorant (81g-85g) – 2 for $5
Grade "A" large white eggs (1 dozen) – $2.29
Maple Leaf Bacon (375 g), Schneiders Juicy Jumbo Weinters (450g), or Grillems Sausages (175g) – $3.79
Benylin syrup (100mL), or Tylenol cough and cold EZ tabs (20's) – $6.99
Life Brand incontinence products – $12.99
Crest 3D white whitestrips – 25% off
Oral-B vitality power toothbursh (1's) or brush head refills (3's) – $19.99
Oral-B manual toothbrush (1's) or Crest premium toothpaste (85mL – 170mL) – $3.49
Right Guard (50g), Dove (25g-75g), or Degree (45g-85g) antiperspirant/deodorant – $2.77
No7 skincare products – 25% off
Life Brand skin care or hair removal products – 30% off
Gillette Venus (4's), or Mach 3 (5's) cartridges – $18.99
Herbal Essences or Aussie hair care products – $2.49
TRESemme hair care products – $3.88
PC fabric softener sheets (70's), Purex (1. 47L), or No Name (1.89L) liquid laundry detergent – $2.99
No Name evaporated milk (370mL) – $0.99
PC spring water (12 x 500mL ), or soda (2L) – $1.29
No Name tuna (130g), Knorr Lipton Cup-a-Soup (4's), or Sidekicks – $0.88
Lantic granulated sugar (2kg) – $1.88
Plus, there are many other new deals in the new flyers from Shopper's Drug Mart Canada (until Friday, April 22, 2016).
Click here for a sneak peak of Shopper's Drug Mart's upcoming flyer.