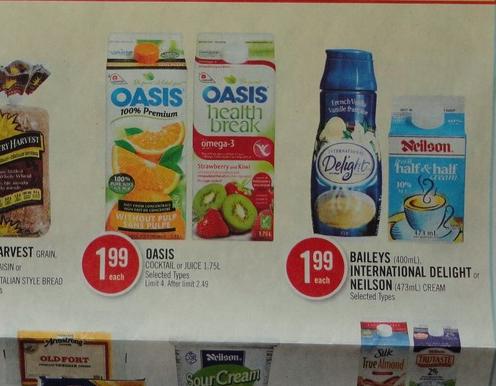 Here is a great deal on a couple of grocery staples from Shoppers Drug Mart Canada beginning April 4th. In the upcoming flyer, Oasis cocktail or juice 1.75 L is advertised at $1.99 each, which is an excellent sale price. Wonder Bread is also in this flyer, shown as being $2.29 in the Ontario version of the flyer, also a decent price.
You may have a coupon from a month or so back for $4 off when you purchase Oasis refrigerated juice and two other select products, one of which is Wonder Bread. Use this coupon and instead of paying $6.57 for all three items on sale, you will pay just $2.57! This works out to only 85 cents per product.
The flyer does state that there is a limit of 4 for the Oasis juice at the $1.99 price points. If you purchase more than four, the price for the fifth becomes $2.49.
Click here to view the Shoppers Drug Mart Canada flyer for the week beginning April the 4th, 2015.