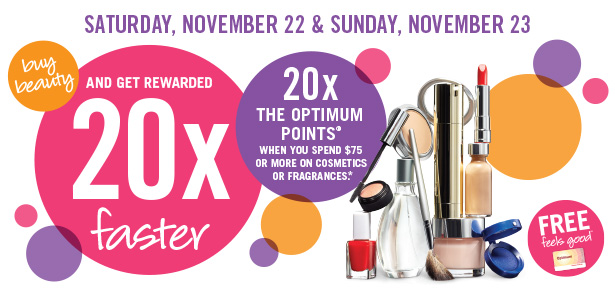 Check out this Shoppers Drug Mart Canada offer!
You can shop at your local Shoppers Drug Mart Canada store on Saturday November 22nd and Sunday November 23rd, 2014 to enjoy this hot new offer! Spend $75 or more on cosmetics and fragrances and you will earn 20x The Optimum Points! Free Feels Good!
You will also need to have your Shoppers Optimum Rewards Card handy to redeem this offer of course. This would be an excellent opportunity to cross off some names on your Christmas Shopping list while earning some Bonus Optimum Points for yourself to redeem for FREE items in the future!
Save your Shoppers Drug Mart Canada Bonus Optimum Points for the Redemption Events for the ultimate savings of course.
Click here to check out this Shoppers Drug Mart Canada offer.