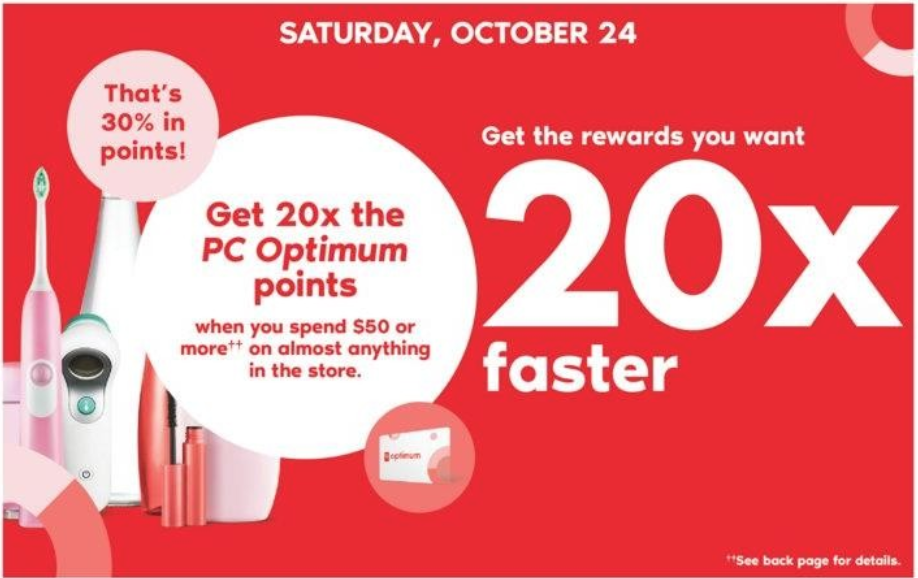 Shoppers Drug Mart Canada has a good offer available now. The Shoppers Drug Mart Canada offer includes: Get 20x The PC Optimum Points when you spend $50 or more on almost anything in the store.
This Shoppers Drug Mart Canada offer is valid today, Saturday, October 24, 2020.
Shoppers Drug Mart's flyer has 2 Day sale, valid until October 25, 2020, and include:
PC Ground Coffee $6.99
Christie Cookies or Crackers $1.99
Six Pack Coke or Pepsi $2.45
Wonder Bread $1.99
Kraft Peanut Butter $3.99
Doritos or Cheetos 2/$5
U By Kotex Products $3.99
No Name Butter $3.49
Dozen Eggs $2.29
No Name Bacon $2.99
Neilson 1L Chocolate Milk .99
Stouffer's Entrees or Lean Cuisine $1.99
Click here to view Shoppers Drug Mart Canada weekly flyers.