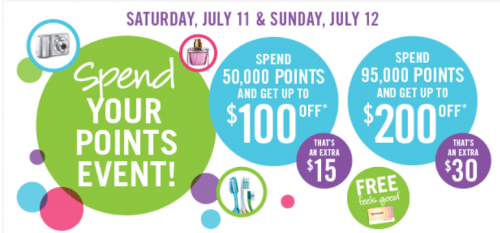 Shoppers Drug Mart Canada is holding their amazing Spend Your Points Event this weekend! Head into your local Shoppers Drug Mart this Saturday July 11 and Sunday July 12, 2015 and you could redeem your earned Optimum points for additional savings! This weekend's offer can save you up to $200 off when you spend your points!
This weekend's offers include:
Redeem 50,000 points to get $100 off  ($85 normally)
Redeem 95,000 points to get $200 off ($170 normally)
Not only is this event a great way to get some additional savings on Shoppers products that you've had your eyes on, but you can find great deals in this week's flyer, including:
40% off Quo makeup brushes (July 12 and 13 only)
40% off Physician's Formula cosmetics products (July 12 and 13 only)
$1.88 Lays Potato Chips 180g (July 12 and 13 only)
30% off Life Brand skincare products (July 12 and 13 only)
$4.99 Tresemme and got2b hair care products
25% off Olay skin care products
$22.99 Pampers Super Boxed Diapers
2/$5 select Old Spice, Secret, or Gillette antiperspirant and deodorant.
Shoppers Spend Your Points event is on Saturday July 11, and Sunday July 12, 2015 only. These offers normally exclude the purchase of prescriptions, codeine products, tobacco products, stamps, passport photos, lottery tickets, gift cards or any point of purchase cards, event and transit tickets. Taxes are payable on the full price of the transaction before you redeem your points. This week's flyer deals last until July 17, 2015, with the exception of the 2 day sales which are on July 12 and July 13, 2015 only.
Click here to view this week's Shoppers Drug Mart flyer.