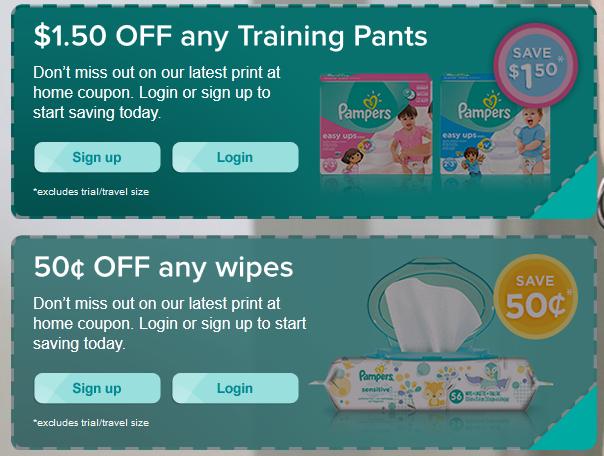 Shoppers Drug Mart Canada has become the only place I purchase diapers and wipes, because when you factor in those Optimum points and bonus offers combined with a sale, you really can't get any cheaper for these items. Here are a couple of amazing deals on Pampers products, and I will match up the offers for you so that all you have to do is print them out and head to a Shoppers Drug Mart.
Until Friday, June the 5th 2015, Pampers Wipes are $2.99 at Shoppers Drug Mart. There is a printable coupon available through Pampers.ca and  Brandsaver, for 50 cents off the purchase of any wipes. There is also a printable VIB coupon for 2000 bonus Optimum points when you purchase Pampers Wipes. 2000 points if redeemed during a bonus redemption is a value of around $4, so with the 50 cents off coupon combined with the 2000 points, you are making approximately $1.50 on the wipes.
Click here to print the 50 cent coupon.
Click here to print the coupon for 2000 Optimum points.
Also, Pampers Easy Ups, and in fact all the Pampers Jumbo size diapers are on sale for $10.99 until Friday. If you purchase the Easy Ups, there is a $1.50 off coupon available through Pampers.ca and Brandsaver. This coupon brings the price down to $9.49. There is also a VIB bonus point coupon worth 3000 Optimum points, which I value at $6 based on a bonus redemption. This brings the cost of one package down to around $3.49. If you check your rebate apps, you will find that until Wednesday, you can submit your receipt and be credited $3 for purchasing the Easy Ups, bringing the cost down to just 49 cents! Finally, take the code from the Pampers Easy ups and enter it in your Pampers Gifts To Grow rewards account and you will be credited 500 points!
Click here to print the coupon for $1.50 Pampers Easy Ups.
Click here to print the coupon for 3000 Optimum points.
And finally, click here to view the Shoppers Drug Mart Canada flyer, valid until Friday this week.