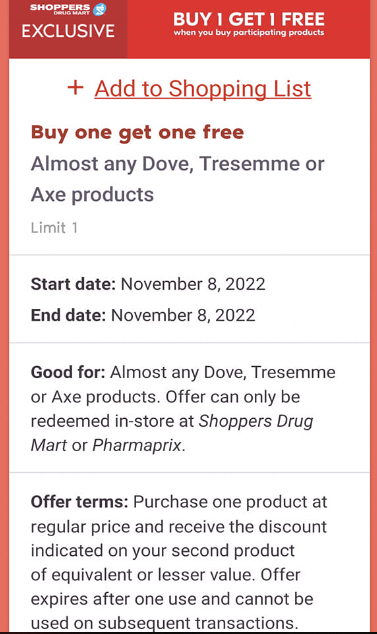 Check your PC Optimum app this morning for this BOGO offer valid today only! Buy one Dove, Tresemme, or Axe product, and get the second one free.
If you have the offer, you will see it near the bottom of the list, underneath your personal product offers. This offer should work on nearly any Dove, Tresemme, or Axe product, including bonus packs and gift sets. Although the offer terms state you must purchase a product at "regular" price, these offers usually work just fine on sale items.
Some of you may have replacement coupons from the Unilever recall for Dove or Tresemme products up to a value of $15. This seems like a great time to use this coupon but keep something in mind if that is your plan. With these buy one get one free offers at Shoppers Drug Mart, the price of each items gets reduced by 50%. If you were to pick up two Dove gift sets priced at $14.99 for example, the price of each set would become $7.50. If you were to use your coupon valid for up to $15 off one Dove product, you would get $7.50 off, and pay $7.50 for both.
Click here to view the Shoppers Drug Mart Canada flyer for this week.