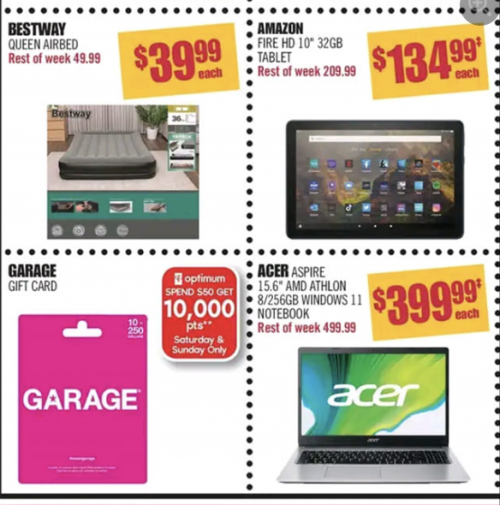 Shoppers Drug Mart Canada has a few different offers of PC Optimum points for buying retailer gift cards in their flyer for this week, and some of them are only valid until the end of today. You can purchase gift cards for gifting or use them for your Black Friday shopping throughout the week! Here are the offers:
Spend $50 on Garage gift cards and get 10,000 PC Optimum points (Saturday and Sunday only)
25,000 PC Optimum points for every $200 or more spent on Ultimate Dining gift cards (Saturday and Sunday two-day sale)
Get 10,000 points for every $50 or more spent on GAP Inc. Brands, H&M, kobo, and Moxies gift cards (offer valid until November the 25th)
In most cases bonus PC Optimum points for gift card purchases do not credit right away, and you should allow 2-4 weeks for them to post to your account. Be careful of the wording of the offers. The Garage gift card offer is only when you spend $50, not for every $50. If you are purchasing increments of $50, make sure to do them in separate transactions so that you get 10,000 points each time. The same would be the case for the Ultimate Dining gift card, and you should purchase $200 worth in each transaction for the 25,000 PC Optimum points. For the GAP and other gift cards valid throughout the week, you can purchase $50 increments in the same transaction, as the offer is for every $50.
Click here to view these offers in the Shoppers Drug Mart Canada flyer.