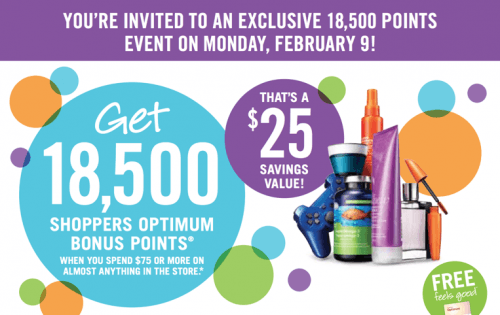 Want 18,500 Shop­pers bonus points? You're invited to an exclu­sive 18,500 optimum points event on Mon­day, Feb­ru­ary 9, 2015 at Shop­pers Drug Mart Canada! It's a limited time offer.
Receive 18,500 Shop­pers opti­mum bonus points when you spend $75 or more on almost any­thing in the store. That's like $25 worth of FREE stuff!
The Shop­pers Drug Mart optimum bonus points will be awarded by end of day Mon­day, Feb­ru­ary 23, 2015.
Excludes, as usual: pre­scrip­tion pur­chases, prod­ucts that con­tain codeine, non-pointable items, tobacco prod­ucts, lot­tery tick­ets, stamps, tran­sit tick­ets and passes, event tick­ets, gift cards, pre­paid card prod­ucts and Shop­pers Home Health Care loca­tions. Offer applies to photofin­ish­ing ser­vices that are picked up and paid for on the day of the offer only. Not to be used in con­junc­tion with any other Shop­pers Opti­mum Points
Click here to print and present your Shop­pers Drug Mart 18,500 points coupon.
Click here to view Shop­pers Drug Mart Canada flyers.