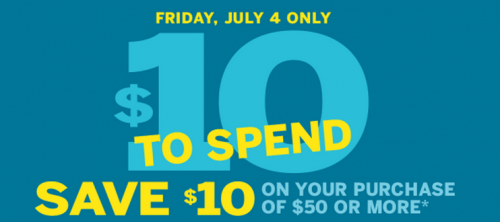 Another new one day savings coupon at Shoppers Drug Mart Canada! This Shoppers Drug Mart discount printable coupon includes:
Save $10 when you spend $50 or more before taxes and after discounts with this printable coupon.
This Shoppers Drug Mart printable coupon is valid in-store on Friday, July 4, 2014 only. Limit of one printable coupon per transaction per customer.
As ususal, this Shop­pers Drug Mart Canada pro­mo­tional coupon excludes pur­chases of:
Pre­scrip­tion purchases,
Insulin,
Prod­ucts with codeine,
Tobacco prod­ucts (where applicable),
Stamps,
Milk where dis­counts are pro­hib­ited by law,
Pass­port photos,
Lot­tery tick­ets, event tick­ets, tran­sit tick­ets and passes,
Elec­tronic gift cards,
Pre­paid phone cards,
Pres­tige cos­met­ics and fragrances,
Shoppers Home Health Care locations.
Click here to print your Shoppers Drug Mart Canada coupon.
Click here to view Shoppers Drug Mart Canada flyers.