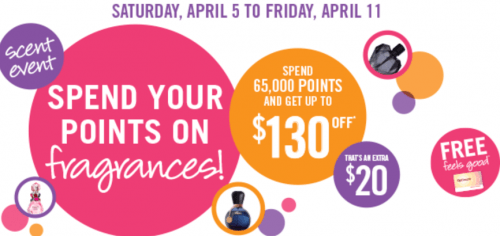 New day and new event! There will be a spend your points on fragrances event this week at Shoppers Drug Mart Canada! Spend 65,000 optimum points on fragrances and get up to $130 off your purchase! That's an extra $20
This Shoppers Drug Mart optimum points promotion is valid from Saturday, April 5 until Friday, April 11, 2014. Not to be used in conjunction with any other Shoppers optimum points promotions or offers. Valid Shoppers optimum card must be presented at time of purchase.
Click here to view Shoppers Drug Mart Canada flyer.