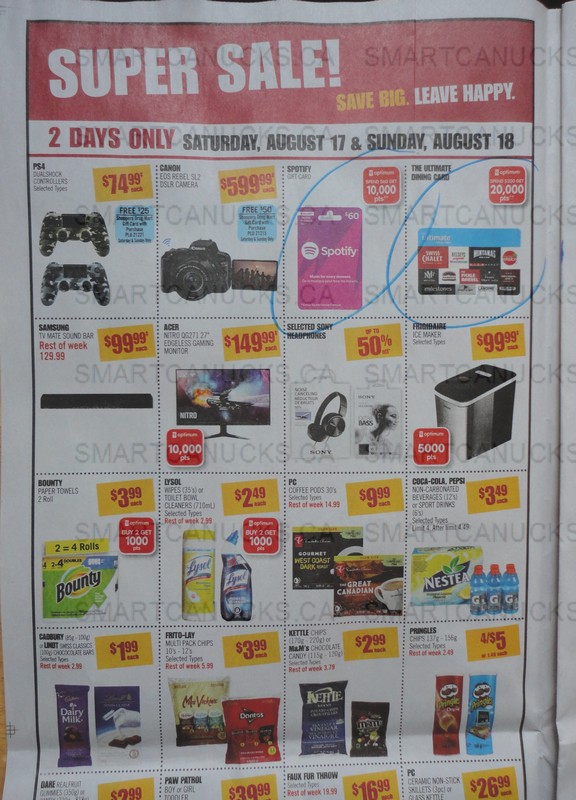 This week at Shoppers Drug Mart Canada you can shop the Super Sale! Saturday, August the 17th, and Sunday, August the 18th, there are many great sale prices on plenty of items, including chocolate and candy, electronics, toys, and much, much more!
There is no advertised 20x the points in conjunction with this Super Sale, but be sure to check your app later in the week to see if you have a 20x the points or similar offer. There is also a regular two day sale happening on the Saturday and Sunday, and here are some of the advertised sale items:
Colgate toothpaste or brushes .88
Peek Freans $1.99
Smart Food or Miss Vickie's 2/$5
Coke or Pepsi 6pk $2.49
Tide or Downy $4.99
Dozen Eggs $1.88
PC Or No Name Cheese Bars $3.99
Schneiders Bacon $3.99
Wonder Bread $1.99
There are also some gift card offers this week! Saturday and Sunday, get 10,000 PC Optimum points when you spend $60 on Spotify gift cards. On these two days you can also get 20,000 PC Optimum points when you spend $200 on Ultimate Dining gift cards.  All week long, get 10,000 PC Optimum points when you spend $50 on Google Play gift cards.
Click here to view the upcoming Shoppers Drug Mart flyer.