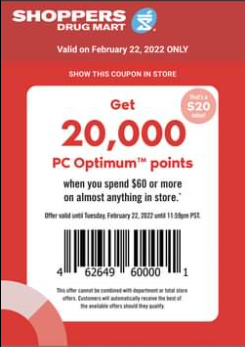 Today only at Shoppers Drug Mart Canada, get 20,000 PC Optimum points when you spend $60 or more on nearly anything in the store. This offer is valid January 22nd only, and it is the text offer for today. If you didn't receive the offer today, that's not an issue because you can use the offer with a screen shot of the image as well. All you need is the barcode to scan.
Don't forget that Shoppers Drug Mart also has an offer for Kellogg's and Kashi bars and cereals this week. The flyer show 5,000 PC Optimum points for every $10 spent on these items, and it will combine with the Tuesday text offer. The offer is not awarding for every $10 spent though, and it is only crediting the 5,000 points on the first $10 spent, but if you purchase multiples of $10 the points will be awarded by doing a points inquiry. If necessary you can screen shot the flyer where it says "for every $10 spent."
If you purchase Kellogg's cereal you can see if those varieties qualify for the $5 gift card offer from Kellogg's that starts on the 24th. If so, save your receipt to upload on the 24th, and earn a $5 prepaid card for every two qualifying Kellogg's cereals purchased.
Click here to view the Shoppers Drug Mart flyer for this week.