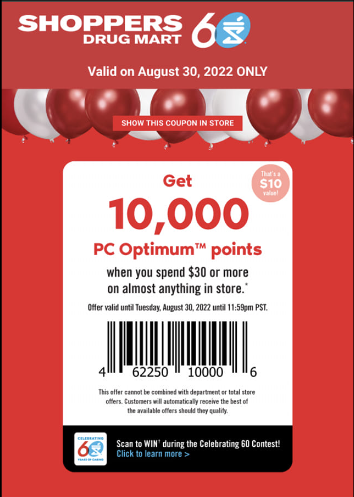 Shoppers Drug Mart Canada has a great text offer for today, and you won't have to spend very much to earn yourself some PC Optimum points. Today only, get 10,000 PC Optimum points when you spend $30 or more on nearly anything in the store, using the offer that you received by text, or a screenshot of the image above.
You can use the offer more than once if you would like. If you have many things that you would like to purchase you can keep doing transactions of $30 and you will receive those 10,000 PC Optimum points each time. You can use coupons to bring down the amount that you will be spending out of pocket as well. Just ensure that your subtotal before tax and coupons are applied is $30. If redeem any portion in points you will not receive the 10,000 PC Optimum points.
Click here to view the Shoppers Drug Mart Canada flyer for this week.