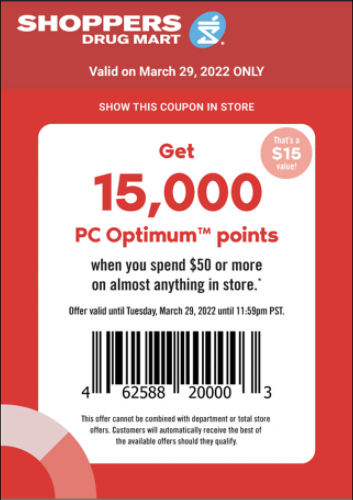 Until the end of today, get 15,000 PC Optimum points at Shoppers Drug Mart Canada when you shop and spend $50 using today's Tuesday text offer.
This text offer was sent out to those subscribed to receive texts from Shoppers Drug Mart Canada, however, anyone can make use of this offer today. If you did not receive the text, you can use a screenshot of the image here, and scan it at the cash in addition to your PC Optimum card. You will see the points on your receipt at the end of your transaction, so long as your sub-total is $50 before coupons are applied. Manufacturer coupons allow you bring down the amount that you are required to spend, however, manager stickers are not the same. If you have $50 worth of products and there are $5 worth of manager stickers on those products, you would need to spend another $5 to get the 15,000 points.
Click here to view the flyer for this week.