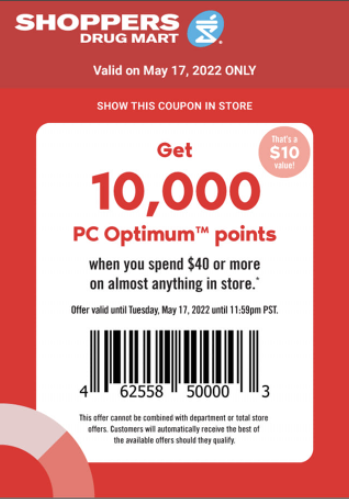 Today only at Shoppers Drug Mart Canada, get 10,000 PC Optimum points when you spend $40 or more on nearly anything in the store using this text offer. The offer is valid until store closing this evening, and can be used multiple times if you so wish.
If you did not personally receive this text, a screen shot of the offer will suffice. Just scan it at the register in addition to your PC Optimum card, ensure that you have spent $40 before taxes, and you will see the points on your receipt at the end of the transaction. $40 is a fairly easy amount to spend at Shoppers Drug Mart, especially if you have a few coupons that you can use to bring down your out of pocket amount. Just keep in mind that manager's stickers do not count as coupons and they simply reduce the price of the item.
Click here to view the Shoppers Drug Mart Canada flyer for this week.