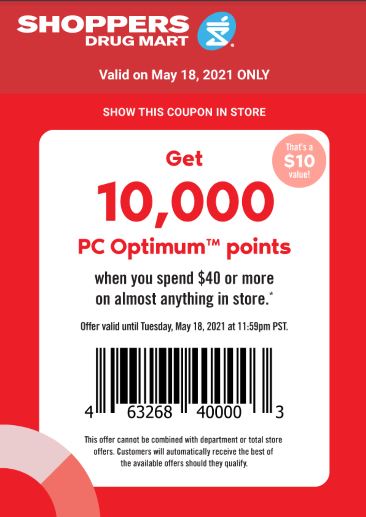 Today only, get 10,000 PC Optimum Points at Shoppers Drug Mart Canada when you spend $40 or more on nearly anything in the store!
This offer was sent out by text earlier today, and is valid May the 18th only. You might have already received the text and have the offer, but if you did not receive the offer you can still make use of it. You can use it by taking a screenshot of the image above and scanning it during your transaction in addition to your PC Optimum card. These types of offers can be used by any PC Optimum account and do not expire after one use.
It's fairly easy to spend $40 at Shoppers Drug Mart so this is a great way to get some extra points. Coupons will bring down the amount that you need to spend out of pocket as well. If you have any free product coupons this would be a great time to use them. If you have much more than $40 to spend however, it would make more sense to hold out for 20x the points.
Click here to view the Shoppers Drug Mart flyer for this week.