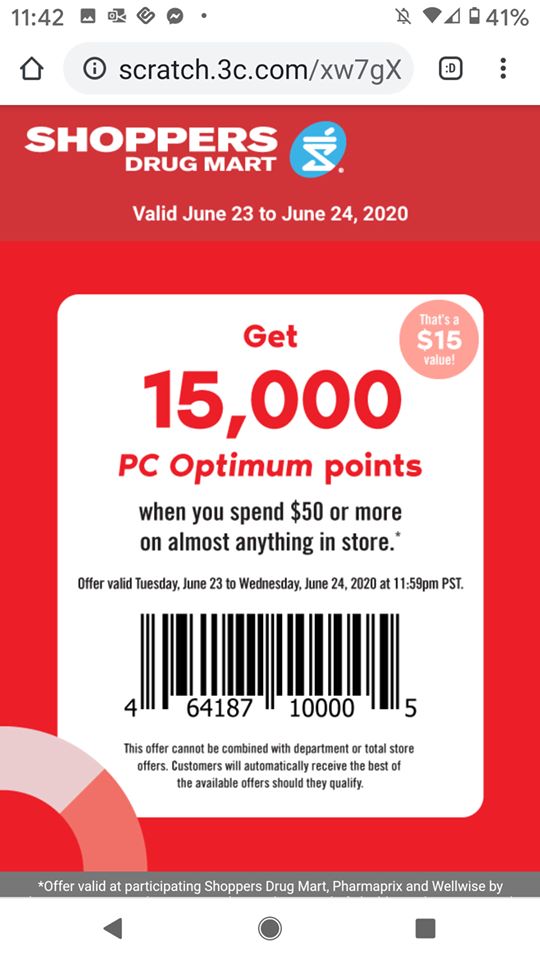 The Shoppers Drug Mart Canada Tuesday text offer has arrived, and it's for 15,000 PC Optimum points when you spend $50 both today, June the 23rd, and tomorrow, June the 24th. These offers are not typically valid for two days, but it has been this way for the past few weeks.
15,000 points for spending $50 is the equivalent of 20x the points, which is 30% back in points. Some people continue to have trouble deciding whether or not an offer is worth using because they aren't sure of the value. 20x the points is 30% back in points so keep that in mind when comparing offers. 15,000 points back for spending $50 is also 30%, and therefore the same. 10,000 points when you spend $50 would only be 20% back in points, and therefore obviously not as good of an offer.
You can use this offer in store whether or not you personally received it, simply by scanning the barcode from the picture in this post.
Click here to view the Shoppers Drug Mart Canada flyer for this week.