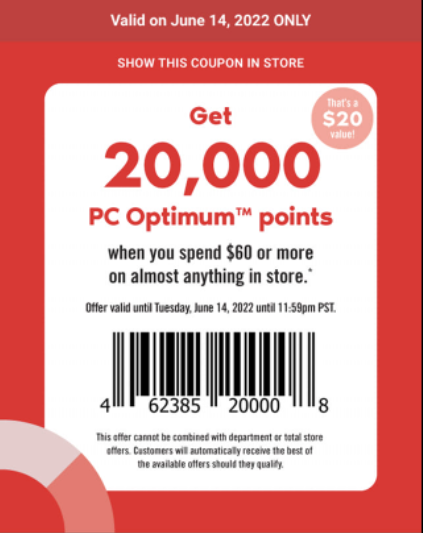 Today only, Shoppers Drug Mart Canada has a text offer available with which you will earn 20,000 PC Optimum points when you spend $60 or more on nearly anything in the store. The usual exclusions apply to this offer, such as lottery, gift cards, etc.
This offer was sent by text and is valid June 14th only. However, if you didn't personally receive the text you are still able to make use of it. All that is required is a screen shot of the offer, which you will scan at the cash in addition to your PC Optimum card. Coupons can be used, just as you would use them with any offer in your app. The coupons will bring down the amount that you pay out of pocket, while still earning your point on the total. For example, if you spend $60 but use $10 in coupons you will pay just $50 but still receive the 20,000 points for spending $60. The best way to ensure you will get your points is to get the subtotal before tax before paying.
Click here to view the Shoppers Drug Mart Canada flyer for this week.