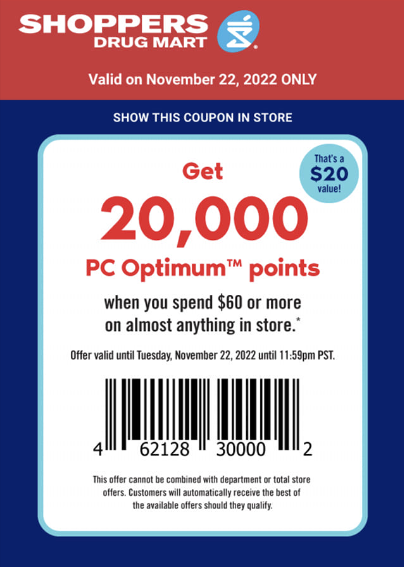 Today only, get 20,000 PC Optimum points when you spend $60 or more on nearly anything in the store at Shoppers Drug Mart Canada, using the Tuesday text offer. You can scan this offer at the cash, in addition to your PC Optimum card, whether or not you personally received the text.
This weekend at Shoppers Drug Mart is the biggest redemption event of the year, and if you redeem 250,000 PC Optimum points you can get $400 off your purchase. If you are a few points shy of this redemption level, using this text offer to boost your points balance might be a good idea. You don't have to spend $60 out of pocket because you can use coupons with this offer. As long as your subtotal before coupons is $60, you will still receive the 20,000 points. Gather up any free product coupons or high value coupons that you need to use before the end of the year, and use them to help you hit the $60 needed for the 20,000 points.
Click here to view the Shoppers Drug Mart Canada flyer for this week.