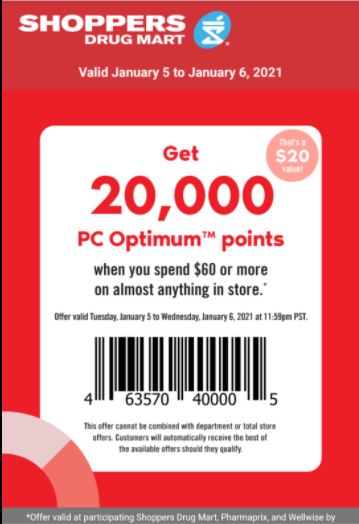 The Shoppers Drug Mart Tuesday text offer for today is for 20,000 PC Optimum points when you spend $60 or more on almost anything in the store.
If you are unable to use the offer by the end of the evening, you can also use it tomorrow as it is valid tomorrow, January the 6th as well.
Some of you may be new to collecting PC Optimum points this year and may be wondering why you don't have this offer. There is typically a text offer sent out each Tuesday for those signed up for texts. If you do not receive text offers you can still use any offer with a barcode by taking a screenshot and scanning it at the register with your Optimum card. Barcode offers are not specific to any account and may be used by everyone.
If you are having difficulty spending $60 but do have some items that you need from Shoppers Drug Mart, don't forget that there may still be Christmas clearance  and you may find some great deals to help you hit $60.
Click here to view the Shoppers Drug Mart Canada flyer for this week.