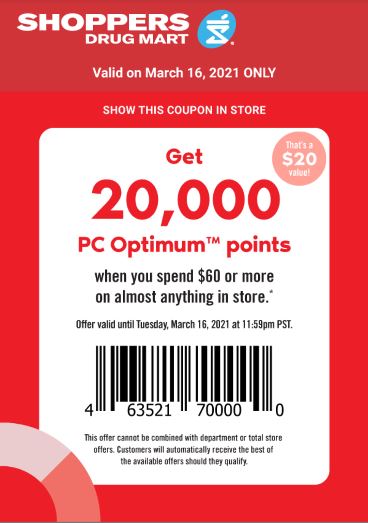 Today only, get 20,000 PC Optimum points when you spend $60 or more on nearly anything in the store at Shoppers Drug Mart Canada with this Tuesday text offer.
These offers were valid for two days for quite some time so just pay close attention to the fact that this is only valid for today. They might switch back to a two day offer at some point in the future, but for now it may only be used on the Tuesday that it is sent out.
While this offer is worth slightly more than 20x points if you spend $60, there is no benefit to spending more than $60. If you have a larger purchase to make like luxury cosmetics or electronics, you are likely better off waiting for a 20x the points offer.
Many of you may not have received this offer today, but if you would like to use it, anyone can do so by taking a screenshot and scanning the offer at the cash after scanning your PC Optimum card.
Click here to view the Shoppers Drug Mart Canada flyer for this week.