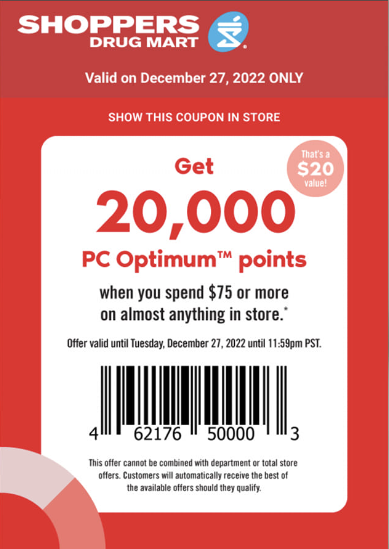 The Shoppers Drug Mart Canada Tuesday Text offer for today was sent out earlier, and December the 27th only, get 20,000 PC Optimum points when you spend $75 or more on nearly anything in the store.
I've found there's a surprising amount of clearance left at some locations, so if you get the chance to head to Shoppers you could get some great deals combining clearance with this 20,000 points offer. I've found that a couple of locations had a lot of regular candy on clearance as well, and not just the seasonal candy and chocolate. You may be able to pick up toys, gifts, and Christmas wrap for next year at some great prices.
To use this offer you can use a screenshot if you didn't personally receive it. Just scan it at the cash in addition to your PC Optimum card, make sure your subtotal before taxes is $75, and the 20,000 points will be on your receipt.
Click here to view the Shoppers Drug Mart Canada flyer for this week.