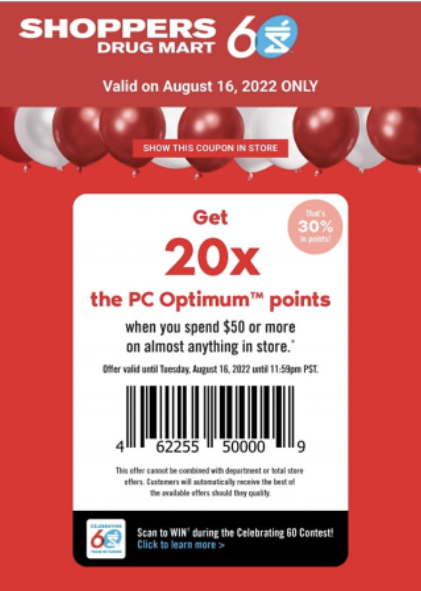 If you didn't get a chance to use your surprise offer at Shoppers Drug Mart this past weekend, or if you have some more shopping that you would like to do, here is another offer that you can use today! Get 20x the PC Optimum points when you spend $50 or more on nearly anything in the store with today's Tuesday text offer.
Many of you were sent this text this morning, but if you aren't signed up or you didn't get it for some reason you can still use the offer by scanning the bar code from the image in this post. So long as you have spent $50 on qualifying items before taxes and coupons are applied, you will see the offer show up on the screen during the transaction, and the points will be on your receipt. If you'd like to do more than one transaction today you can do that as well, as this offer does not expire after one use like your personal offers do.
Click here to view the Shoppers Drug Mart Canada flyer for this week.