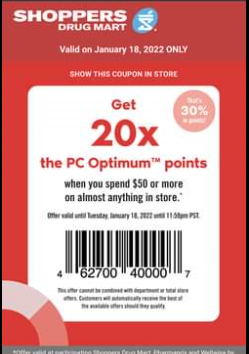 Some of you may have resolved to earn more PC Optimum points in 2022, and if so you may be interested in using today's Tuesday text offer. Today only, earn 20x the PC Optimum points at Shoppers Drug Mart Canada with this offer.
If you didn't personally receive the text this morning you can still make use of the offer by scanning a screen shot. This is not a personal offer that anyone received and the barcode is a generic one. If you spend $50 or more before coupons are applied and scan your Optimum card followed by this offer, you will see the points on your receipt at the end of the transaction.
This offer is valid at any Shoppers Drug Mart location across Canada until close this evening.
Click here to view the Shoppers Drug Mart Canada flyer for this week.