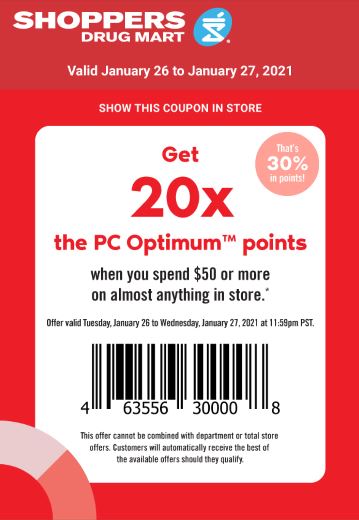 Here is the latest Tuesday text offer available from Shoppers Drug Mart Canada, for use today, January 26th, and if you can't make it there today don't worry, as it's also valid tomorrow, January the 27th. On either or both of these days, get 20x the PC Optimum points when you spend $50 on nearly anything in the store.
You might have received this offer in a text this morning, but if it so happens that you did not, you can still use the offer by using a screenshot of the picture from this post. Everyone who did receive the offer, received the exact same barcode, and anyone can scan and use the offer over the next two days.
For those new to PC Optimum points, you might want to know that you are able to use coupons to bring down your total and you will still receive the points. For example, if your subtotal is $50 and you have $10 worth of coupons, you will pay $40 and still receive points on the subtotal.
Click here to view the Shoppers Drug Mart Canada flyer for this week.