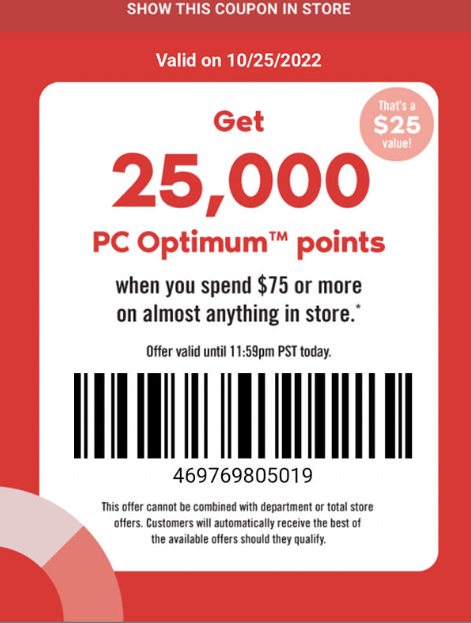 The Shoppers Drug Mart Canada Tuesday text offer valid today is for 25,000 PC Optimum points when you spend $75 or more on nearly anything in the store. Anyone with an Optimum card may use this offer until the end of today by scanning the bar code at the cash in addition to your PC Optimum card.
It seems that today some people received different offers. This was the offer that I received, but there are others who got an offer of 20,000 PC Optimum points when you spend $60. If you receive these text offers on Tuesday   you will have to check to see which one you received. Some of you may have $75 to spend, while others will find it easier to hit $60.
If you need items to add to your shop, PC Mac & Cheese has an in-store offer of 3,500 PC OPtimum points when you purchase three, and the Betty Crocker cake mixes and frosting are priced at $2.49 again this week with an in-store bonus of 2,000 PC Optimum points each.
Click here to view the flyer for this week.