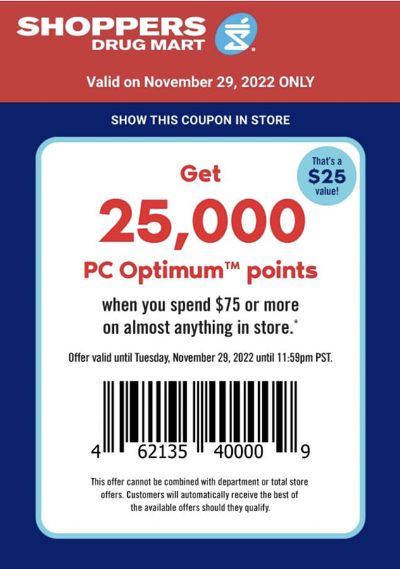 Today only, get 25,000 PC Optimum points when you spend $75 or more at Shoppers Drug Mart Canada using this Tuesday Text offer. The barcode from this offer needs to be scanned at the register along with your PC Optimum card, and you will receive the points immediately, so long as your subtotal before taxes and coupons is $75.
The biggest bonus redemption event of the year is still on at Shoppers Drug Mart until tomorrow, to if you find yourself in need of more points to do a redemption, or perhaps even do another redemption, you could use this offer to earn more points. Just remember if you are doing a bonus redemption, to ensure that your subtotal is the required amount before taxes for the level you are trying to redeem at. If you are trying to redeem at the highest level of 250,000 PC Optimum points for $400, you need to make sure you have exactly $400 or more worth of merchandise before tax. If you do not, you will not get that extra $150, and you are redeeming for the level below that.
Click here to view the Shoppers Drug Mart Canada flyer for this week.