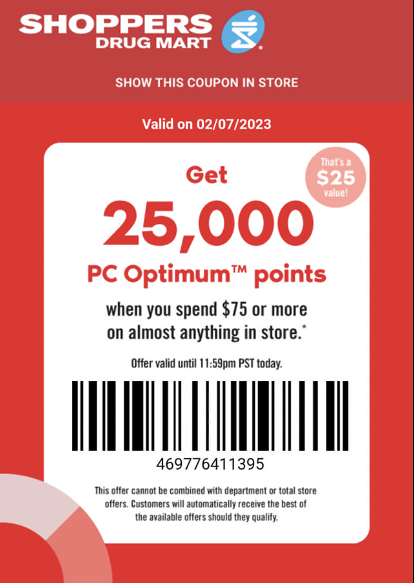 The Tuesday Text offer for Shoppers Drug Mart Canada has been sent out, and today only, get 25,000 PC Optimum points when you spend $75 or more on nearly anything in the store.
If you haven't received an offer you are able to use this one simply by scanning it in addition to your PC Optimum card at the register. In the last couple of weeks there have been various different offers sent out, so you might come across a lower spend offer that you are able to use, but I am simply sharing the one that I received.
If you have an amount to spend that is significantly more than $75, you might want to wait for an offer like 20x the points so that you get points on your entire purchase.
Click here to view the Shoppers Drug Mart Canada flyer that is valid this week.