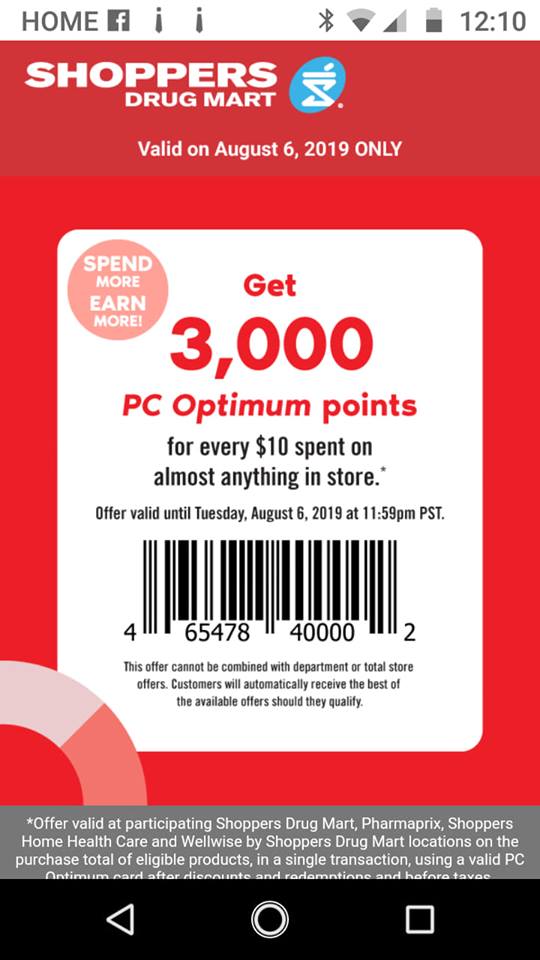 Today only, Tuesday, August the 6th, get 3,000 PC Optimum points for every $10 spent in store! To use this offer, present the text that you received, in addition to your PC Optimum card when you checkout. If you did not receive the actual text, you can also just use a screenshot of the one above.
I've noticed some personal offers now being so many points "for every" certain amount spent, and I really like that they are making offers like this now, particularly this one with a low required spend amount. It's sometimes difficult to spend $30 or $50 to get points, so $10-$20 spends are definitely more practical. But I REALLY like the flexibility of this sort of offer so I hope they keep this up. I like that I can go and spend as many multiples of $10 as I want and get points. Sometimes, when you plan a $30 or $50 spend, you find they are out of something you were banking on them having, and then you are scrambling to find something you likely don't need to get to a certain amount. An offer like 3k points for every $10 spent doesn't require much planning ahead.
Click here to view the Shoppers Drug Mart Canada flyer for this week.