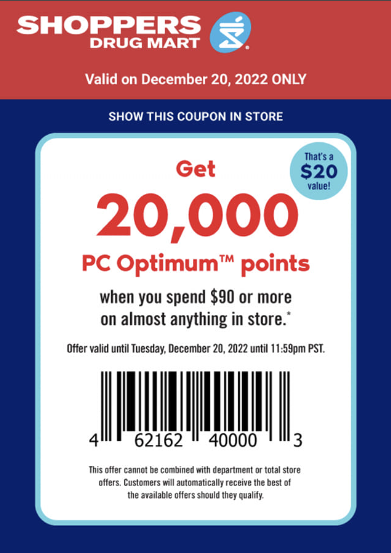 Today only, December the 20th, earn 20,000 PC Optimum points on your purchase at Shoppers Drug Mart Canada when you spend $90 or more on nearly anything in the store.
This Tuesday offer was sent out by text earlier today, and if you don't have the text a screenshot with the barcode will suffice. Anyone may use the offer any time today. This offer does not combine with other offers and if you have another offer loaded to your card you will only receive the best of the two offers. Like other offers, things like gift cards and lottery are excluded.
In terms of value, this is not the best of offers since an offer like 20x the points when you spend $50 is 30% back in points, whereas this offer is closer to 22% back in points. However, being this close to Christmas you might be in need of some last minute things, and sometimes Shoppers Drug Mart is just plain convenient.
Click here to view the Shoppers Drug Mart Canada flyer for this week.