Shoppers Drug Mart's deals this weekend are shaping up to be quite a weekend of savings, as they will be running two different campaigns, one right after another, that can save you upwards of $30. The first offer, as you will remember from our post the other day, is for people who have been tirelessly saving up their Shoppers Optimum Points. You can see those points go much further, if you shop this Saturday, February 14th, and use them on Beauty Redemption products, as Shoppers will be rewarding bonus points to on cosmetics, skincare, hosiery, fragrances and many more beauty related accessories.
The bonus points for this offer will be broken down as such:
Redeem 40,000 Optimum points for $90 (regularly 50,000 points for $85)
Redeem 80,000 Optimum points for $200 (regularly 95,000 point for $170)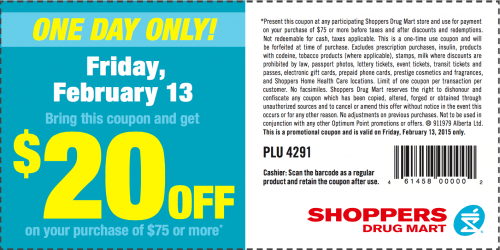 The offer that we have just received word about, that may be more applicable for the everyday customer (as it is not exclusive to Shoppers Optimum Points collectors), is the $20 off coupon for any purchase made over $75. This coupon can only be used once per transaction, and will only be valid on this Friday, February 13th. You won't be allowed to use the following products to meet your $75 minimum requirement, which include:
prescription purchases
insulin
products with codeine
tobacco products
stamps
milk
passport photos
lottery tickets
event tickets
transit tickets and passes
electronic gift cards, prepaid phone cards
prestige cosmetics and fragrances
and Shoppers Home Health Care locations
A money saving idea would be to go in on Friday and use your Shoppers Optimum Card to gain some extra last minute points, and then use them the next day when you go in to redeem your points for the Beauty Bonus Redemption offer.