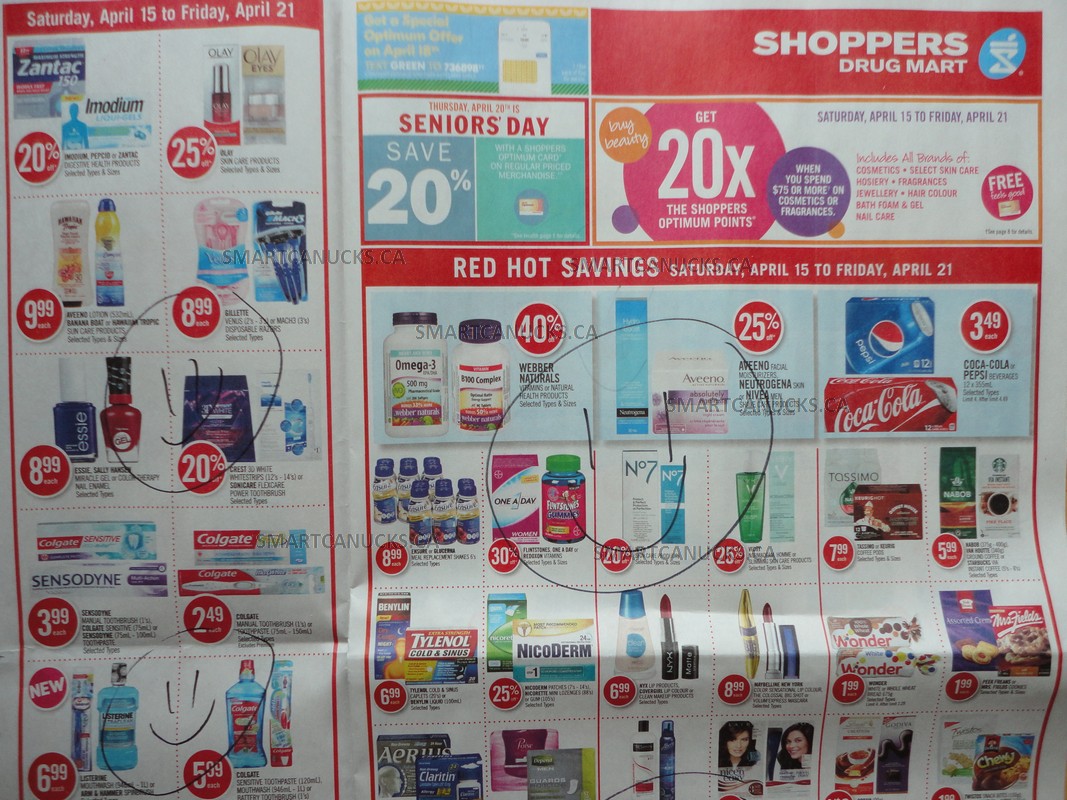 Here is your weekly early look at the Shoppers Drug Mart Canada flyer, uploaded by forum member cyn88canada. The Optimum promotion for this week is 20x the points when you spend $75 or more on cosmetics and fragrances, valid the entire week, from April the 15th to the 21st.
There is a two day sale on the Saturday and Sunday, with the following prices in effect:
Lindt Gold Bunny $4.99
Lindor Mini Eggs 2/$6
Cadbury Mini Eggs $7.99
Plush Easter Baskets or 30 Count Filler Eggs 20% off
6pk Coke or Pepsi $2.29
Lays Chips $1.88
Kraft Peanut Butter $2.99
Nescafe Instant Coffee or Tetley Tea $3.99
Soft Soap Liquid Soap, Dove Bar Soap, or Speedstick $1.99
Gain, Fleecy, or Cheer $3.99
Bounty Paper Towels $4.99
Dozen Eggs $1.77
PC or No Name Block or Shredded Cheese $3.99
No Name Butter $3.49
For those of you who will be shopping for 20x the points on cosmetics this week, take note of the offer of 15x the points on Joe Fresh implements and Quo lashes or cosmetics products, as the two sets of points will combine.
Click here to view the Shoppers Drug Mart flyer valid April the 15th to 21st.