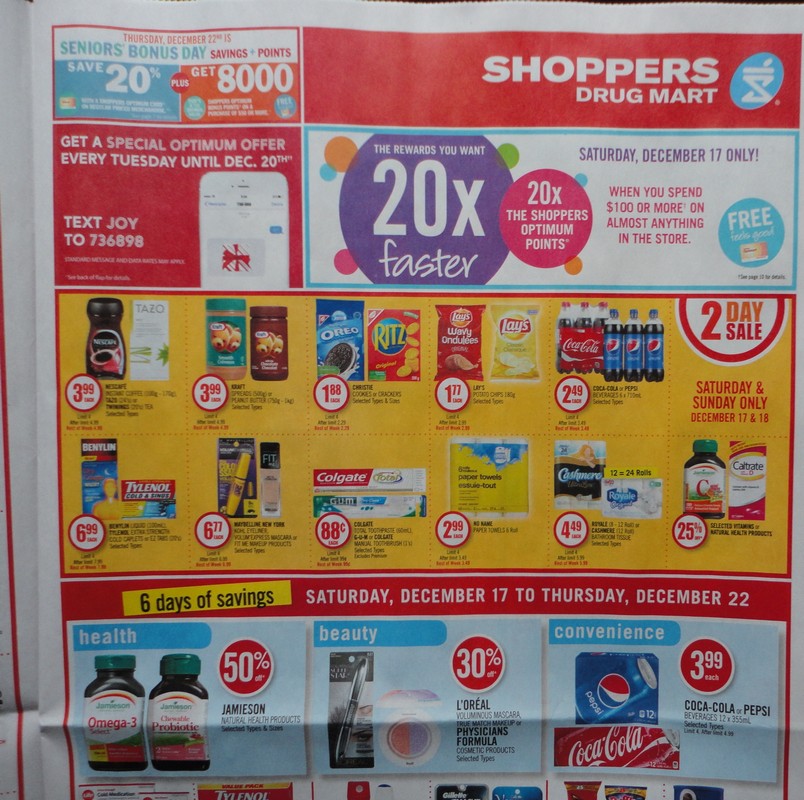 We have a sneak peek of the Shoppers Drug Mart flyer, valid for the week of December the 17th to the 22nd. Yes, this flyer is only valid until Thursday next week, so keep that in mind when you receive your Friday offer. Nothing will be on sale on Friday, December the 23rd.
If you still have Christmas shopping to do you can also load up on the Optimum points this Saturday, December the 17th. For one day only, receive 20x the Optimum points when you spend $100 or more on nearly anything in the store. This is double the usual spending threshold for a 20x the points event, but this time of year there is never enough time and plenty of rushing around, so while you may pay a little bit more in price for some things at Shoppers, if you can do some one stopping shopping here, the 20x the Optimum points will probably offset some of the higher prices.
There is also a two day sale on Saturday and Sunday with items like Lays chips for $1.77, and Royale or Cashmere bathroom tissue for $4.49. These are great items to  help you reach that spending threshold of $100, but keep in mind the limit of four on the two day sale items.
Click here to view the Shoppers Drug Mart flyer for the week of December the 17th to the 22nd.