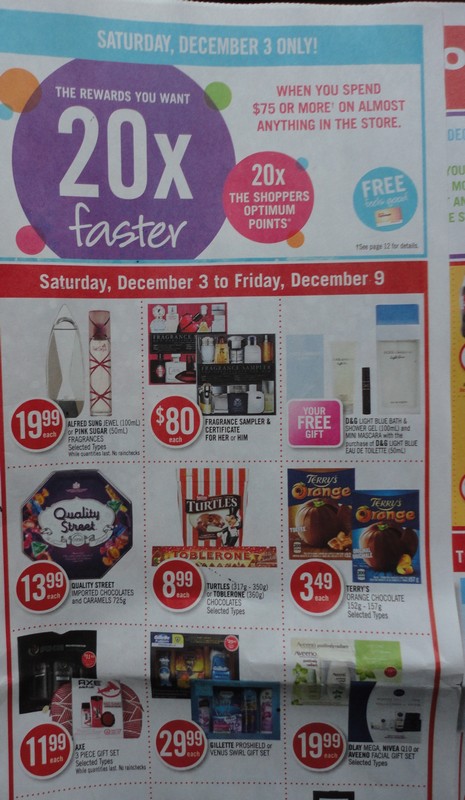 Here is your sneak peek of the Shoppers Drug Mart Ontario flyer for the week of December the 3rd to the 9th. The promotion for this week is 20x the Optimum points when you spend $75 or more on nearly anything in the store, on one day only, Saturday, December the 3rd.
Yes you did read that correctly. You have to spend $75 for this 20x on Saturday. If you don't like that option, you can hold off until Sunday or Monday, where the promotion will be 18,500 bonus Optimum points when you spend $75. There is also a two day sale on the Sunday and Monday, so if you can actually spend $75, these will be the days you will want to shop on to maximize your points.
Tena products are on sale for $14.99 this week so if you have any of those $14 coupons to use up, now would be the time. Saputo shredded cheese is $3.99 in this flyer, which is a decent price, and combined with the 75 cent tear pad coupon and Optimum points it's a great item to add to your shop. I have received personal offers of 15x the points on Saputo cheese as well since I have been purchasing it at Shoppers Drug Mart.
Click here to view the Shoppers Drug Mart Ontario flyer, valid December 3rd – 9th.