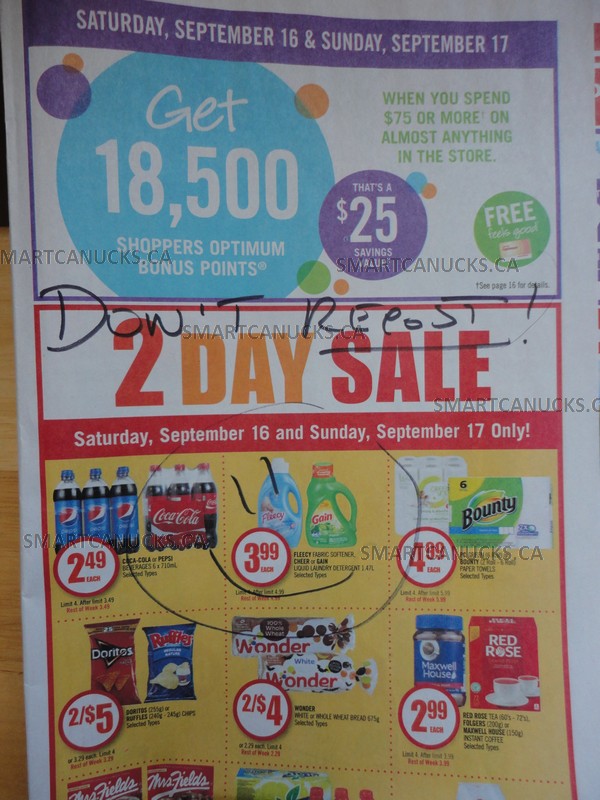 Shoppers Drug Mart Optimum point collectors can start prepping their shopping lists for this weekend with this sneak peek of the flyer beginning Saturday, September the 16th. This weekend only, Saturday the 16th, and Sunday the 17th of September, get 18,500 Optimum points when you spend $75 or more on nearly anything in the store.
There is a two day in effect on both of these days as week, and here are some of the items that will provide some excellent bang for your buck if you are planning to do that $75 shop for the points:
Coke or Pepsi 6pk $2.49
Gain or Downy $3.99
Bounty or PC Paper Towels $499
Doritos or Ruffles 2/$5
Wonder Bread 2/$4
Red Rose Tea or Maxwell House Instant Coffee $2.99
Mrs. Fields Cookies $1.99
Nestea or Gatorade $3.99
Lantic Sugar $1.99
Carefree or Stayfree $2.99
Degree or Secret Deodorant $2.49
Colgate Toothpaste or GUM Toothbrushes .88
The digital offer of 4000 Optimum points when you spend $15 on participating store brands such as Joe Fresh, Life, No Name, and Quo, will also be available to load to your card next week as well.
Click here to view the Shoppers Drug Mart flyer valid September the 16th to the 22nd.