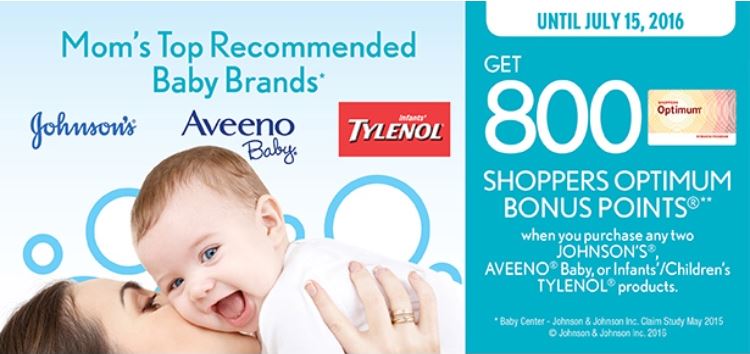 Starting on Saturday, select Aveeno Baby products will be on sale at Shoppers Drug Mart for just $5.99 all week.  Use your $5 printable coupon from the Healthy Essentials promotion to get one for $0.99 plus taxes.
Since free is always better than paying for stuff, print this VIB coupon for 1000 bonus Optimum points (worth around $2 at the highest bonus redemption level) and get points back to cover the rest of the cost!
If you are buying two, or another Johnson's product or Children's Tylenol, you will also earn 800 bonus Optimum points in-store making this deal even sweeter.  If you are buying a second Aveeno baby product, there is also a coupon for another 500 Optimum points on any Aveeno Baby product you can use.  You can only use one of each VIB coupon per transaction and shop early as sale Aveeno has been selling out quickly at many stores.
Don't forget that the $5 Aveeno coupon should count towards your spending personalized offers too.  So you will get more bonus points if you spend the required amount for your points coupon.