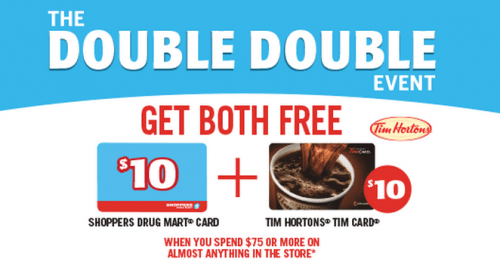 It is a busy week for Shoppers Drug Mart promotions so you can choose which one works best for you.  We already mentioned
20X Optimum Points When You Spend $50 March 11-12 (with coupon)
Kick Back Redemption: On Friday 14 March, redeem 95,000 points for $170 and get 30,000 points back.  It is likely that you can also redeem 50,000 for $85 and get 15,000 points back.
Earn More Points: Monday 17 to Wednesday 19 March, earn 18,500 points when you spend $75 or more on almost anything in the store.
and now there is another one, on March 15-16 spend $75 or more and get a $10 Shoppers Drug Mart coupon and a $10 Tim Hortons git card.
Which one will you be shopping?