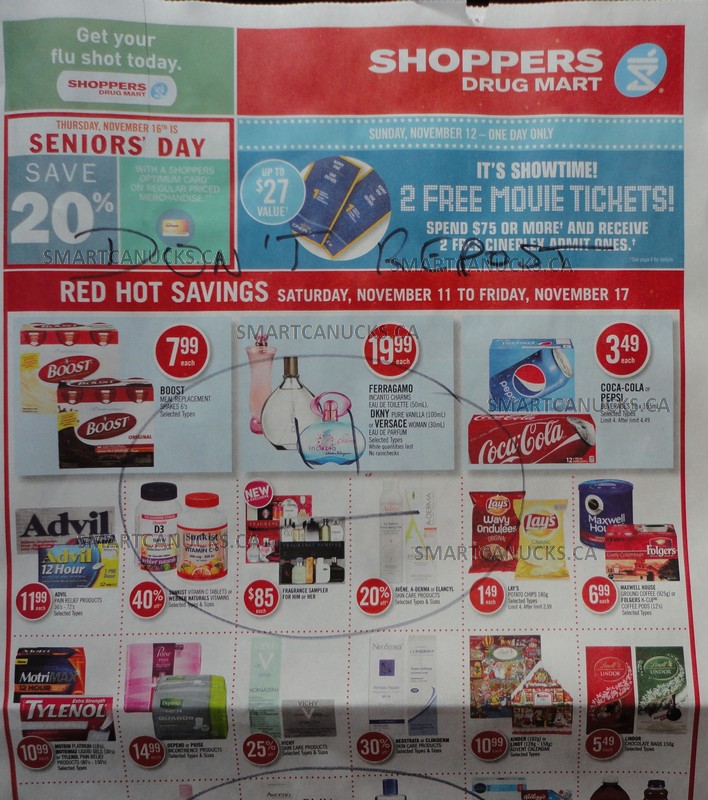 The upcoming Shoppers Drug Mart flyer is full of holiday gift sets.  If you are buying them, be sure to check the actual value.  Many have inflated retail values as the holiday scents are priced well above what they usually sell for in stores, even in Shoppers.
Two different offers to choose from this weekend.  Shop Saturday and earn 20x Optimum points when you spend $50 or more on almost anything in the store.  Or shop on Sunday and get two Cineplex tickets when you spend $75 or more on almost anything in the store.
The one day sale is valid on Saturday, great for the 20x Optimum promotion.  Deals include
Royale & Cashmere 12 double rolls $3.99
Tide/Downy $3.99
Wonderbread $1.77
No Name evaporated milk $0.99
40% off Flintstones vitamins
40% off One a Day vitamins
Lantic sugar $1.99
No Name butter $2.99
Eggs 12s $1.88
Buy a $50 Shoppers Drug Mart gift card to pay for your purchase and get a free bag of Hershey's Kisses!  See the Shoppers Drug Mart flyer sneak peek for November 11-17 here.