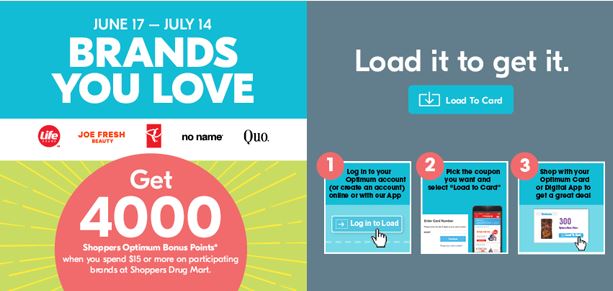 This great deal from last week is back this week and we will see it through July 14th too.  Get 4000 bonus Shoppers Drug Mart Optimum points when you spend $15 or more on participating brands.  This promotion includes Life, Joe Fresh Beauty, PC, No Name and Quo products.  There are some deals in the flyer that make this deal even hotter
Quo and Joe Fresh cosmetic brushes or implements have a bonus flyer offer of 20x Optimum points.  Spend $15 and earn 3000 plus the 4000 bonus.  7000 Optimum Points are worth about $14.70 at the highest level at bonus redemption and $12.50 at the highest level of regular redemptions so a great deal.
Even if you just need the basics, you can choose PC or No Name groceries and household items and earn 3000 bonus points worth over $6 at bonus redemption or $5.37 at regular redemption (top tier).  Some deals include
Life sunscreen $8.99
Life bandages $3.99
Life dental picks & flossers 2 for $5
Quo by Orly Breathable polish $7.99
PC Sparkling Water 2 for $3
No Name butter $3.79
Boxes of PC facial tissues priced at $0.79 are a great filler item if you are a little short of $15.  View the Shoppers Drug Mart flyer for this offer here and don't forget to login and load your offer before shopping.  My Optimum card has a few offers on these brands that I am hoping will combine too, so check those out before shopping.