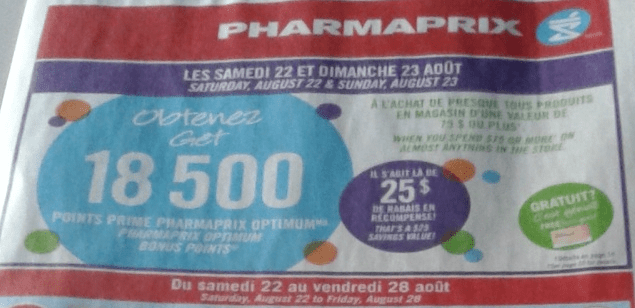 Tioma has uploaded a very early sneak peek of the upcoming Pharmaprix flyer starting next Saturday.  The Optimum promotions are usually the same across the country, so you can look forward to 18,500 bonus Optimum points when you spend $75 or more on almost anything in the store on CSaturday 22nd or Sunday 23rd August.
The Shakeup Your Makeup promotion next week is targeted to lip products, so if you were planning on buying some fall shades, you may find better prices or promotions starting next Saturday.
Select Rimmel products will be $4.99 next week.  Many of us have received multiple customized coupons for Rimmel products, so you may be able to grab some for free if you are lucky enough to find those in your offers next week.
Click here to view the Quebec sneak peek for next week.  The flyers are often very similar with major differences in diapers, bread, milk and toilet paper.