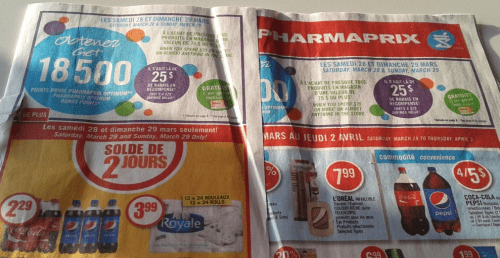 We have a sneak peek of the upcoming Pharmaprix flyer from Tioma and that means a sneak peek at the Shoppers Drug Mart Optimum promotion too since they are usually the same across the country.
On Saturday 28 and Sunday 29 March, get 18,500 bonus Optimum points when you spend $75 or more on almost anything in the store.  The two day sales are valid the same day as the promotion so you can maximize your points with these deals:
Royale 12 double rolls $3.99
40% off Quo brushes
Butter $2.77
Dozen eggs $1.77
The flyer ends on Thursday, whether they will have a special sale on Friday or are moving to a new flyer week remains to be seen.  Personally, I would love to see flyer weeks start on Fridays.
Click here to view the Pharmaprix flyer sneak peek.  Major differences between flyers are usually bread, milk and toilet paper (brands and pricing).