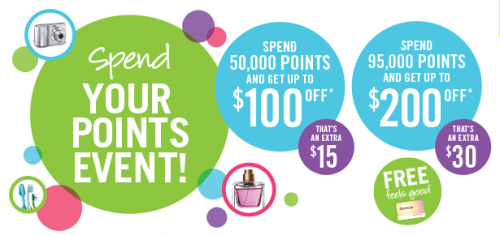 We had heard rumours of the upcoming bonus redemption at Shoppers Drug Mart but we can now confirm it thanks to an early flyer sneak peek from Tioma,   Shop on March 21st or 22nd and your Optimum points are worth more at Shoppers Drug Mart and Pharmaprix.
Redeem 50,000 points for $100 worth of items (regularly $85)
Redeem 95,000 points for $200 worth of items (regularly $170)
This means that at the top tier, you are paying 475 Optimum points per $1 redeemed instead of 558 – significant savings!  Remember that you cannot redeem for items that you do not earn points on, like prescriptions, gift cards, stamps etc.
You can earn points when redeeming, you will not earn base points so offers such as 20x points will not work, but offers where you earn 1000 per item will credit.  The two day sale offers run Saturday and Sunday so you can make the most of them with your redemption.
Click here to view the Pharmaprix flyer sneak peek.  While some prices and items will vary, they are usually fairly similar.  Major differences will be in bread, milk and toilet paper where the brands and prices vary across the country.