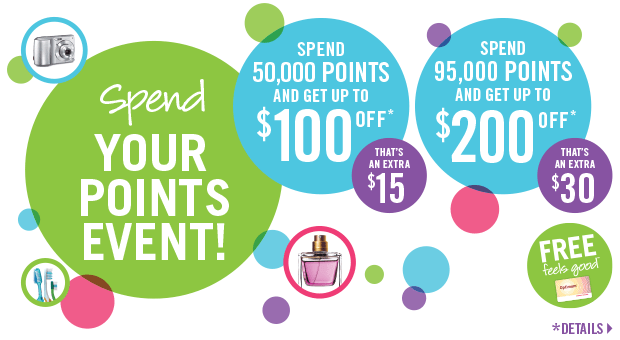 Ready to spend some of those Shoppers Drug Mart Optimum points?  There will be a bonus redemption event on Saturday where your points are worth even more than usual.  Bonus redemption is only valid on the top two redemption tiers.
Redeem 50k Optimum points and get $100 off (regularly $85)
Redeem 95k Optimum points and get $200 off (regularly $170)
If this is your first redemption or you are unfamiliar with redeeming your points, you cannot redeem for gift cards, transit tokens, lottery and some products where required by law like prescriptions.  Any taxes and deposits will also not be included in your redemption.
If you are a little short of points for the redemption, check your personalized offers as you may have one that will give you enough points for a top tier redemption as there are not many bonus offers in the current flyer.
If planning a redemption, I find that some prices are much higher during these events.  If you are redeeming for high end makeup, fragrance or electronics, the prices rarely change but for the regular day to day stuff, you are sometimes better off redeeming during a good sale rather than bonus redemption.